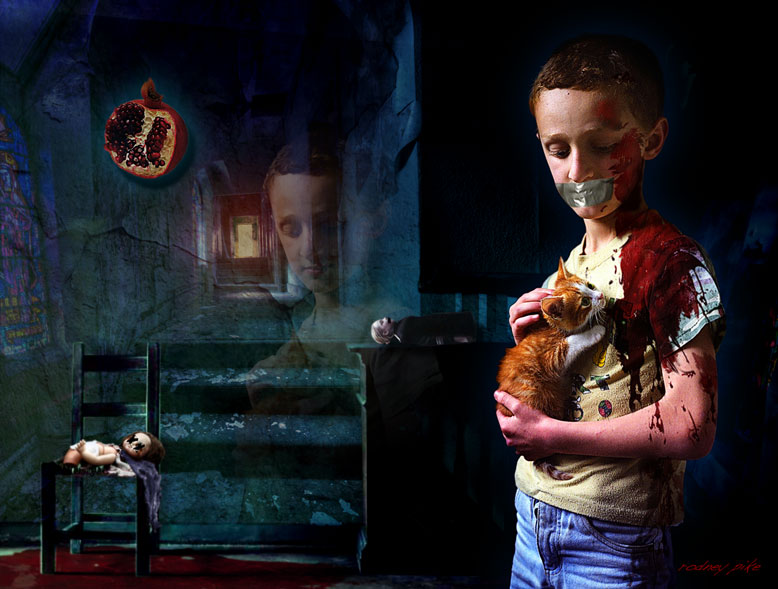 Speak No Evil
Today's post is called
Speak no Evil
. This illustration was originally a Photoshop Contest entry at the current news Photoshop contest web site, Freaking News which has sadly closed down for business. This was one of my earliest photo-manipulations and contest entries way back in 2010. As I've mentioned in previous posts, my favorite contest there was called "The Freak Show". The freakier the better and pretty much an anything goes type of contest. During my early years working in Photoshop, I was particularly influenced by artists such as
Max Sauco
with his sometimes absurd surrealism and in this case I drew inspiration from one of my favorite artists,
Gottfried Helnwein
whose paintings depict hyperrealistic surreal and sometimes images that are a bit disturbing. If you would like to see some examples of his work and learn a little more about the artist, I did an artist feature which can be viewed
here
. I've reworked several images that were done in the early days lately which I think had some potential but needed a little work and I want to make sure I have good quality images in my product line for download. If you're interested in this image, simply click on the image above and you'll be directed to its product page. I still have several of these to complete and make available in my store before I release some new work with a fresh new look. I hope you like them.
Update:
I'm finally back behind my computer after a long difficult time physically. I've suffered from back pain most of my life and it all came to a head a couple of years ago. I saw several doctors n the VA system and after about a year and a half of getting put off or offered opioids, I sought medical help outside the VA system. I had to get outside insurance which took a full year. At that point, I was starting over again with all of the possible treatments outside of surgery but it was getting so bad that I wasn't able to sit behind my computer anymore, hence the lack of posts and new work for such a long time. I've literally been out of the game almost completely for the past 3 years. It's been a long painful road but I finally found a brilliant surgeon in Baton Rouge who after exhausting all other possibilities, performed a double fusion on my lower back. L4 - L5 and L5 - S1. I'm now 6 and a half moths out of surgery and doing exceptionally well. I've been in the gym 7 days a week rehabbing myself and strengthening my core. It's going better than I had expected but still have another 6 months or so before I'm 100%.
On top of that, I was totally out for the past 2 months with a kidney stone that was more stubborn than me. I've had them before but this one brought me to my knees. I was scheduled for surgery last week at Tulane Medical Center in New Orleans but fortunately passed the stone only minutes before they were to roll me into the operating room. I'm so glad all of that is finally behind me. I feel like I'm 20 again. Ok, maybe 35 but I'm doing well and ready to get back to work.
Thanks to my friends and all of those in my social network who kept me going through those tough times. Look for some cool new work right around the corner. Lord knows the news headlines are giving me plenty of material.
Thanks for stopping by. Hope you enjoyed. Have a great day!